Pastor Eddie Summers was born February 28, 1961. He is a native of Bakersfield. which he affectionately refers to as "Bako." He attended local schools and will graduate from Summit Bible College in June 2013 with a masters degree in counseling and a doctorate in theology. He is an ordained minister with the Assemblies of God.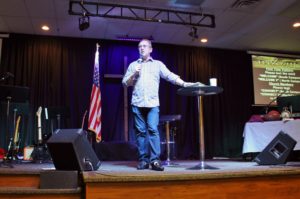 He has been married to his wife Jenae since February 15, 1992. Jenae is from the South Bay area of Los Angeles. The two met at a church camp where Eddie took her back, to propose to her two years later. He says "I put a ring on her finger and she put a ring in my nose and away we went." Together they have three children, James 19. Joseph 16 and Jenna 14. They also have three dogs and two cats that are Jenae and the kids prized possessions. (4 out of 5 isn't bad)
Eddie served as a children's pastor at Southwest Christian Fellowship in the 1980's and joined the staff at New Life Center in 1990 under the leadership of his good friend and mentor Pastor James Ranger. He first served as the children's pastor and later he became the executive pastor where he served for many years. After that he served as lead pastor in Grover Beach California.
In 1999 the Summers family moved back to Bakersfield and began Grace Assembly of God church. Their first service had 12 people in attendance and the church eventually grew to multiple services with multiple campuses.
Pastor Eddie says,  "it is a privilege to serve a church that accepts and practices my life's message of Gods Grace." He is currently working on his first book. He enjoys reading and his favorite authors are, John Maxwell, Pastor Paul Goulet and Pastor Bill Johnson. He also loves church history and the study of famous revivals and loves to travel to these places. His prized possession is an autographed copy of Kathryn Kuhlman's book "I Believe in Miracles." Pastor Eddie says; "my greatest desire is not to be known as a man of God, but rather to be known as a man who loves and serves his God."